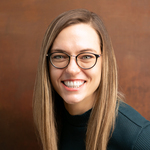 Manager, Customer Advocacy at
Articulate
About

- My Articles on ELH: http://bit.ly/1LL5rYx - My Articles on the French Articulate Blog: http://blogs.articulate.com/les-essentiels-du-elearning/ - Twitter: https://twitter.com/allison_lamotte - LinkedIn: http://linkd.in/1zLBNwF
Last week Community Manager David Anderson invited you all to share the best e-learning advice you've ever received i...
There are so many digital image file formats to choose from—.JPG, .BMP, .TIFF, .GIF, .RAW, .PNG—it can make your head...
Giving feedback is a hot topic, and pretty much everyone has an opinion on how it should be done. One thing that come...
One of the great things about Articulate Studio '13 is that it makes adding audio to your course a cinch! Whether you...
A friend of mine currently works for an e-learning agency, but always keeps an eye out for other opportunities in the...
Most e-learning designers agree that interactivity helps increase learner engagement. But interactivity is about more...
Most clients have a specific outcome in mind for learners when they initiate an e-learning project. So how do you mak...
Help your organization make a smooth transition with this helpful guide.
Almost every e-learning course has at least one or two buttons. Often, buttons are a means of navigation (like the Ne...