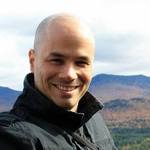 Andrew Elder
Sales Trainer at
MVP Health Care
About

Andrew Elder

You may say I'm a Rapid E-Learner, but I'm not the only one...
Activity
"This is a GREAT article, thank you (would love to see the rest of the transcript if it's available)! You mentioned Julie created a course..."
over 4 years ago

07/02/19 at 5:23 pm (UTC)
Activity
"These features are great additions! I'm confused about the "Branched Navigation" though. If the only branching options can be assigned to..."
8 years ago

11/17/15 at 9:14 pm (UTC)