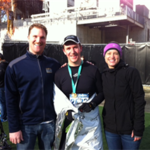 Andrew Winner
Manager, Instructional Design at
SiriusXM
About

Andrew Winner

Excited to join the community and deepen my knowledge of Storyline.
Hello everyone -- I'm hoping you can help me answer a question on behalf of some newer designers who are working in t...
Hey community -- I am hoping you can give me some feedback on an issue I'm facing. I'm in the planning stages of a la...
Hey, so here's what I'm trying to do. I have some software simulations to record and I am having some issues with t...
OK, so here's the dilemma. I have a course that consists of two topics: we'll call them Subject A and Subject B. Each...
Hey guys! So I apologize in advance for this very basic, elearning 1.0 question, but I really could use your help. ...
Hey Community -- I hope you can help me out with something. I have some recurring "tips" built in to the course. If...
Does anyone know if it's possible to change the default fonts in Storyline from the Articulate font to something else...
It's hard for me to explain as I have not been able to replicate, but a user is unable to right click a hotspot. The ...
Hey everyone -- some of you might have run into this difficulty before, but is there a way to change the size of your...
Hello all -- a Storyline n00b here. I was curious to know if there's a way to use the 'Zoom Region' function on spe...