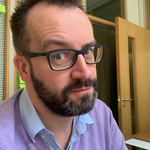 Andy Jones
Learning Director at
Honeyboot & Lemon
About

Andy Jones

I care about helping people become better at what they do. I believe as learning specialists it is important to have passion and drive and most importantly, to make art. I put my soul into what I do and sometimes it even works.
Activity
"We've encountered an issue where there is a white bar that appears intermittently when a user clicks a button that is partially off the e..."
over 2 years ago

07/02/19 at 12:42 pm (UTC)
Activity
"Hi everyone, I'm creating a course in Storyline, in Arabic. Unfortunately, the right-to-left text direction doesn't seem to be work..."
over 3 years ago

08/20/18 at 2:32 pm (UTC)
Activity
"Hello lovely people! I've run into an interesting problem with Storyline 360 (that I am currently trying out). On a Windows ..."
almost 5 years ago

01/05/17 at 10:58 am (UTC)