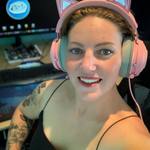 Emily Chorley
Freelance Senior Instructional Designer
About

Emily Chorley

Chiari malformation brain surgery survivor - self taught instructional designer; keen blogger; mrs.beastwithin.co.uk - surfer and powerlifter! - All round happy and hardworking freelancer!
Activity
"Hey guys, really loving these examples! Here's a quick little sample I popped together; https://articulateusercontent.com/review/item..."
9 months ago

11/12/21 at 9:01 pm (UTC)
Activity
"Hey guys, I used Web objects for the first time during some Virtual Scavenger Hunts for kids at the begininng of Lockdown, Here's my ..."
almost 2 years ago

10/10/20 at 12:03 pm (UTC)