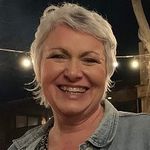 Bonnie Long
Multimedia Content Developer at
Centre for Adult Learning and Professional Development, NUI, Galway
About

Bonnie Long

California transplant, honorary Galwegian. Learning technologist, techie, trekie, mum, artist-in-hibernation. Lover of creative technologies for education.
Activity
"I have a Storyline 360 course (5 slides long) with voiceovers on each slide and minimal interactions. I've uploaded it to Review 360, whe..."
over 2 years ago

08/14/21 at 10:35 am (UTC)
Activity
"Another +1 for an equation editor in Storyline 360. Please!"
4 years ago

09/19/19 at 8:07 am (UTC)