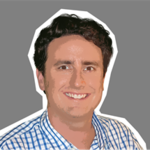 About

Bryan Jones

Helping people build better training, faster. :)
I don't usually post my giveaways to this forum, but this is the biggest one I've ever done, so I decided to share. ...
Here's my best PowerPoint tip: Name screen elements on the "Selection Pane" for easy design layering and more  What'...
Michael Allen recently updated his popular Guide to eLearning book. Tom has referenced it a few times on his blog and...
Medical images for eLearning are pretty popular right now. That's why I thought it would be a good time to shar...
Ok. The Articulate community rocks. We're all here, so we know it. But how are you using community within your orga...
I recently interviewed Cammy Bean and she said that the #1 challenge that most instructional designers have shared wi...
I'd like to use this post to round-up some standards on project size and screen resolutions for Articulate products....
I've recently started building out scenario templates across all of the Articulate products (StoryLine, Presenter, an...
I've been testing out character interactions using photo characters in Storyline and built a screenr of some of the b...
I thought I'd share a shortcut job aid that I use for PowerPoint 2010. Some of these you'll know (like copy and paste...
I've seen a lot of messages in the past few weeks about how people create e-Learning storyboards. My favorite method ...