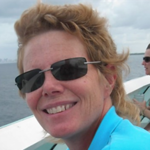 Carolyn Stoll
Instructional Designer at
University of Cincinnati
About

Carolyn Stoll

Former composition teacher of 20 years, now working at the University of Cincinnati as an instructional designer, fascinated with technology and totally sold on active learning practices. Now using Storyline and loving it.
Activity
"Thanks for the update to Storyline 3 that lets you open Storyline 360 files. That's a huge benefit!"
over 4 years ago

08/20/18 at 7:11 pm (UTC)
Activity
"I'm using PPT 2010.  I am using the latest version of Engage.  Still can't change the colors."
almost 12 years ago

05/02/11 at 10:44 am (UTC)
Activity
"I am having problems changing the colors in my Carousel project.  No matter what I change the Interaction Properties to, the output displ..."
12 years ago

03/08/11 at 1:38 pm (UTC)