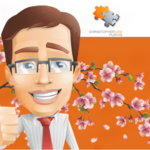 Chris Purvis
Group E-Learning Specialist at
Robert Walters
About

Chris Purvis

Translates needs analysis and functional specifications into detailed course designs. Using eLearning tools such as Articulate, Captivate and Design software to create interactive, SCORM compliant web based training deliverables. Builds e-learning that is SCORM and API compliant and can be tracke...
Activity
"Hi there, might be an easy question, BUT does flash embed into the exe file, so when you run the CD you don't have to download flash? Reg..."
over 6 years ago

03/24/14 at 11:14 pm (UTC)
Activity
"Hi there, I'm creating an assessment course and I've added multiple results slides to simulations and questions. I need a Grand Results s..."
over 6 years ago

03/12/14 at 4:14 am (UTC)