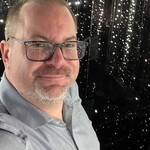 Craig Oliver-Walsh
Senior Manager, Functional Capability Development at
Dover Fueling Solutions
Edinburgh/Dundee, Scotland
Hi Folks, Might be the length of my day today, but I am trying to create a flashing LED effect/animation in Storyline...
The biggest issue i have with RISE (after all the awesome updates we got recently) is not having the ability to move ...
I have exported the xliff file from RISE and it has included the default text block wording multiple times, even thou...
I have managed to publish as web course, however in IE and EDGE browsers clicking the index.html does nothing. I can ...
Is there a way to reposition the image within the Text on Image RISE block? Would need to do a bunch of editing of th...
Hello Folks, Think i may have overlooked a menu or option, but is there a way to extended the display time for a grou...
I remember that someone posted a handy guide/wallpaper to aid with screen sizing for recordings, can a delightfully h...
I am looking for Moodle training in the North West (or thereabouts) I have got so far and I am at a wall. I want to m...
I have recorded audio to insert into my presentation and when played back through windows media player it is clear an...
Before i kick a load of time into this next week, I was just wondering if it is possible to have the same course in...
Normal 0 false false false oNotPromoteQF /> EN-GB X-NONE X-NONE ...
I am looking to upgrade the quality of our voiceovers, I already have a good idea of what I am looking for but wanted...
I am sure this is a checkbox i am overlooking, but how do I remove the surrounding areas so it just displays what is ...