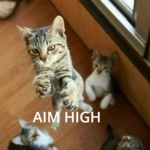 Darcy McGaffic
Instructional Designer
Activity
"Hi, I don't see the option to publish to video. I just downloaded my desktop apps again, to make sure I got the latest update. Do you hav..."
almost 2 years ago

02/23/18 at 11:10 pm (UTC)
Activity
"When you first download and then import this template, all the elements on the timeline are locked. Did you unlock them?"
3 years ago

11/03/16 at 8:26 pm (UTC)
Activity
"Thanks, clean and pretty..."
almost 4 years ago

04/05/16 at 9:37 pm (UTC)