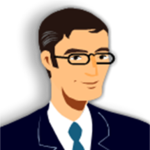 David Steffek
Training Specialist at
Auto Club Group (AAA)
About

David Steffek

Focusing on elearning and multimedia production.
Activity
"Television newscasts are another good frame of reference (I think). They are teaching you the events of the day, and they have a narrator..."
11 years ago

09/29/11 at 7:49 am (UTC)
Activity
"For me, I look at how I want to utilize the screen capture. If doing a demo that I intend to just be watched from beginning to end, then ..."
11 years ago

09/20/11 at 1:58 pm (UTC)
Activity
"If all you're looking to do is basic editing (simple cuts, etc.) then the Movie Maker program included with Windows should suffice. If yo..."
11 years ago

09/20/11 at 1:01 pm (UTC)