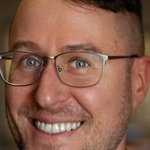 Daymon Kiliman
Multimedia Content Development Manager at
Illinois Institute for Continuing Legal Education
Activity
"It looks like newer builds of 360 have changed the process a bit. Now, grab the "end" marker and hit "home" on your keyboard."
1 year ago

02/04/22 at 3:23 pm (UTC)
Activity
"Thanks so much for this template, Allison! I'm still fairly new to Storyline, so I'm a bit in awe at the ingenuity of this project and am..."
1 year ago

12/30/21 at 3:22 pm (UTC)