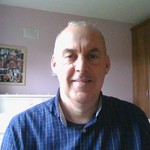 Dermot McGlone
HEO Learning and Development Officer at
Dept. of Social Protection
About

Dermot McGlone

20+ years experience in Learning & Development; previous work includes as Programmer, Systems Analyst; have worked in Instructional Design for almost 5 years.
Activity
"Thanks so much, Maria, Johnrey from Articulate Support was in contact and hopefully we have it figured out. Thanks for your help."
4 months ago

08/25/21 at 6:10 am (UTC)
Activity
"Hi Maria, Thanks for taking the time to respond. Unfortunately, I can't take the action you suggest, as the Edit button is not available ..."
4 months ago

08/23/21 at 3:07 pm (UTC)
Activity
"Do you have the latest version of Storyline (Nov 5th, version 3.33.20697.0)? There were problems some people had with the content l..."
2 years ago

11/19/19 at 2:18 pm (UTC)