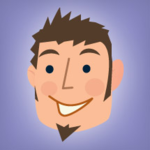 Glen Murdock
Visual Communications Coordinator, Technical Training at
Canadian Pacific
Activity
"When exporting images from a Storyline file, the folder I've exported them to always opens up after I've saved the image. The project I'm..."
over 3 years ago

08/20/20 at 5:13 pm (UTC)
Activity
"Hello, Anyone else experience this? The font I have set up is showing as 17 pt in my Rise course. When I publish to PDF, it seems to go d..."
4 years ago

09/04/19 at 4:31 pm (UTC)