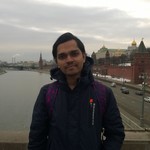 About

Harshal Prabhulkar

I have a niche habit to learn new things in life. Always ready to explore and eager to learn. Soft-spoken, well behaved and adaptable to change of environment. I'm an enthusiastic learner and exploring the field of E-Learning by creating games, course, E-Books and presentation. Currently I'm...
You have 3 levels to complete this course. Click n reveal, Slider and drag and drop interaction in SL2
I have created a quick informative presentation on, "The structure of earth" topic. Highlighting four concentric layers:
I have created a quiz game to test our knowledge of climate change. Take a look and share your view.
It's my first attempt to create such quiz with game mechanics on the topic of World History.
Articulate StoryLine has limitation to customize Matching drop down Quiz.But with Triggers and variables it is possible.
In this course you will learn how to read, pronounce and handwrite Russian Alphabet with Interactive Ana!
Check out my Resume within Articulate Storyline 2.
Help the office lady to choose correct outfit. Drag and drop the correct outfit on the office lady.