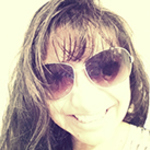 About

INES CASTRO

Graphic Designer and recently Chilanga (nickname to people that live in Mexico City). Elearning´s apprentice, discovering people and looking opportunities.
Activity
"Was a pleasure! :-)"
almost 6 years ago

06/18/15 at 5:31 pm (UTC)
Activity
"I had same problem. I tried it in chrome, firefox. I emptied my cache and my glossary still not appeared. I discovered my problem was in ..."
almost 6 years ago

06/18/15 at 5:04 pm (UTC)