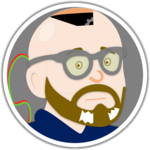 Jonathan Hill
Digital Learning Manager
About

Jonathan Hill

eLearning Specialist with a background in HR/L&D and adult education, currently producing training materials for the insurance industry.
Can you beat the computer opponent in this game of FOURPEDO?
This interactive crossword celebrates 20 years of Commercial Express with some bang up-to-date JavaScript plugins.
A tongue-firmly-in-cheek interactive step graphic showing those old enough to know better how to do 'the floss dance'.
"VENN is it safe for a WEREWOLF to go to the mall?"
Select the plot points on the graph to answer the question
This paper cutout 'player select' screen will lift your characters from the screen.
Downloadable here: https://s3.eu-west-2.amazonaws.com/elhc234/Magazine+Template+ELHC234.zip
A trashy TV magazine template that can be used as a course introduction, recap or summary.
A scene from 'Lloyds' a sitcom set in the coffee shop where insurance began, in which two characters texting each other
A short multiple choice 'placement test' which guides users of our LMS towards the courses they need to study.
A short multiple choice 'placement test' which guides users of our LMS towards the courses they need to study. ELHC #232