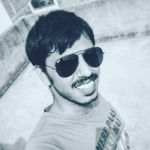 Kartik Tyagi
Content Devloper/ e-Learning Expert/ Animator at
Novo Management
About

Kartik Tyagi

I have 10+ years of experience in the eLearning domain as a developer. My vision is to be the trusted partner for learning services to help individuals and corporations maximize their performance and potential. I specialize in rapid eLearning development using Articulate Storyline
An i-book look alike example created in storyline for all the book worms who like reading as there favorite hobby.
A game inspired with the Minesweeper game of the window 98 in which you have to select the cells not containing a bomb.
A simple example of American Roulette in storyline to take the learning into game mode.
This is an interactive timeline example to show the different periods of History of Warfare.
Hi, its a simple interaction to play video and media in your e-learning course.
I've tried to take storyline skin customization to a high level through this template. Hope you all like this.
This is a guided tour to all the navigations of a course, to understand its functionality.