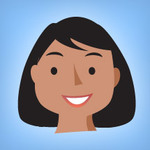 Keeley Ellakany
Curriculum Developer at
Switch University
About

Keeley Ellakany

I design and develop the eLearning modules for the talent development department of the Switch SUPERNAPS.
Activity
"LOL "No, Dave. No." You did a great job of not falling into what we call "Corny or Thorny." Corny humor is hackneyed, and tends to ann..."
over 4 years ago

03/22/16 at 11:48 pm (UTC)
Activity
"Really nice use of push transitions and flat graphics!"
over 4 years ago

02/16/16 at 6:33 pm (UTC)