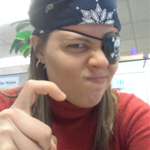 Krista Ewing
Tech Consultant
About

Krista Ewing

Geek | Creative | Storyteller
Activity
"Great job. Thank you so much for sharing you work with us. It's inspiring."
almost 5 years ago

10/28/15 at 8:44 pm (UTC)
Activity
"I have had the same issue the last few weeks. My file is on my C Drive, no other programs are running, and it's only 26 Mb.  Disappointing. "
over 6 years ago

03/26/14 at 8:16 pm (UTC)