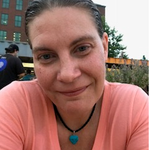 Lynn Bassett
Global Trainer at
Corporation Service Company
United States (Wilimington. DE)
Activity
"Recent changes have required some of our learners to take our courses using laptops. In the display setting Microsoft auto assigns ..."
almost 2 years ago

07/07/21 at 3:02 pm (UTC)
Activity
"Hi guys, I'm looking for some guidance.  I do realize that Internet Explorer is not a supported browser for html5.story files.  I also kn..."
almost 6 years ago

06/13/17 at 8:21 pm (UTC)