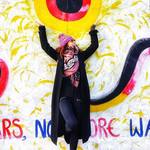 Maria Manolopoulou
Senior Instructional Designer at
KPMG
About

Maria Manolopoulou

Hey! I'm Maria and a few years ago I left sunny Greece to come in UK to do my Master's degree in Digital Education. Through these years I've worked in eLearning design and development and educational media production. I am passionate about new technologies and media that can enrich the educationa...
Activity
"These flat design-style building illustrations will help you build a city scene in a jiffy."
6 years ago

09/07/16 at 3:22 pm (UTC)
Activity
"First challenge! Woohoo! Hey evebody, I've created some city buildings flat illustrations! Enjoy :) http://bit.ly/29jGj3B"
6 years ago

07/07/16 at 11:03 am (UTC)
Activity
"Absolutely love it! Thanks Nicole for sharing! I really like the design as well - clear, simple, chic - excellent match for the content!"
over 7 years ago

03/19/15 at 10:11 am (UTC)