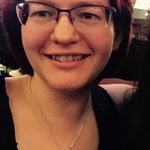 Nicola Fern
Senior E-Learning Technologist at
The Christie NHS Foundation Trust
Hi I've built a progress bar to use in one of my courses using states.  Functionally, it works fine, but the appeara...
Hi all I'm looking for a contractor to assist with designing and delivering e-learning packages.  It would be for th...
Hi  I've been editing short SL quiz objects (10 slides or less) in SL 360, and I've been jumping between slides on f...
Hi I'm testing the new SL 360 and I've worked on a drag and drop interaction I completed in SL2 yesterday. Testing th...
Hi I just set one of my courses currently in development to scale to fill the browser window.  This works fine on IE...
Hi I'm working on a simple module, converting from powerpoint.  Most slides have audio on them, but otherwise are v...
Hi I was killing time in Illustrator today and came up with these trophy shield designs.  I've done a variety of col...