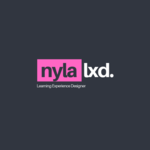 Nyla Spooner
Senior Instructional Designer at
Halliburton
About

Nyla Spooner

I design adult learning experiences for the digital space. I write about life and learning. I take pictures for fun. I like to listen to house music while I work. If you pull up next to me at a stoplight…you'll probably catch me practicing my audition for "So You Think You Can Dance".
In this demo, you get to learn a little about photo composition, and how the Apple iOS helps you use the "Rule of Thirds
A Day in the Life: The Instructional Designer Edition.