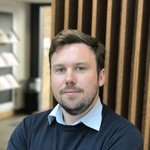 Rob Lowney
Learning Technologist at
Hibernia College
About

Rob Lowney

Learning technologist at Hibernia College Dublin, Apple Distinguished Educator and former course administrator at Law Society of Ireland
Activity
"Hi there I've published Articulate Presenter 13 files as SCORM packages in the past and hosted them in my LMS (Moodle) with no issue. Co..."
4 years ago

12/21/17 at 12:26 pm (UTC)
Activity
"Great! Thanks a million for your help :)"
almost 7 years ago

04/18/15 at 7:53 pm (UTC)
Activity
"Could anyone assist with this? I have a quiz inserted in my Articulate Presenter presentation. When submitting answers in the quiz, a red..."
almost 7 years ago

04/14/15 at 9:28 pm (UTC)