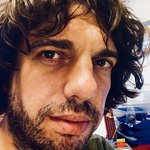 Robin Weggeman
E-Learning design and development at
Propersona
About

Robin Weggeman

In 2011 I started as a full time tutor. For my company I develop Softsims for healthcare administration. I like to use all kinds of tools. (Gimp2, Audacity, Powtoon, Premiere Pro, Powerpoint, Publisher, Captivate, Storyline, LMMS, Krita) Computerlanguages: C#, Javascript, CSS, HTML @ beginner.
Activity
"Hi everybody, Here's my take on the classic Duck Hunt. Except the duck and the background, everything in it, is made with SL tools, anim..."
over 3 years ago

10/14/18 at 9:56 pm (UTC)
Activity
"Hi Everybody, With all the examples on this forum, i was able to construct a typing-course. Because im from Holland, the course is in Du..."
over 3 years ago

09/17/18 at 2:02 pm (UTC)