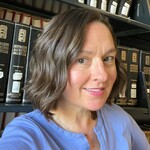 Stacey Greenwell
Instructional Design Librarian at
University of Kentucky
About

Stacey Greenwell

Librarian, instructor, author & instructional designer with 20+ years experience in libraries & information technology
Activity
"Hi Trina, I'm a librarian (and an instructional designer) and I just wanted to say great job on your explanation of keyword searching!..."
4 years ago

08/01/18 at 8:10 pm (UTC)
Activity
"This is an excellent course, Allison! I like how you've packed so much content into each lesson, and it is so visually appealing! I just ..."
over 4 years ago

05/24/18 at 4:40 pm (UTC)