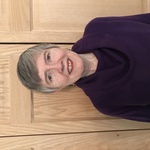 Susan Schleef
Instructional Designer at
American Red Cross
About

Susan Schleef

My bachelors degree in Secondary Education (with a focus in Music Education) took on new meaning when I started learning about computers in the late 70s and discovered I was good at understanding technology and at explaining it to others. For 23 years, I've done that in many jobs at the Red Cross.
These are some videos I worked on over the years for purposes ranging from announcing updates to sample software demos.
This short course covers the details of recording meetings in MS Teams with demo videos and click-thru simulations.
This course goes over some basic functions of Teams and differences for volunteers with or without Red Cross email.
This is the 2nd Storyline course we developed. I can see how much my skills improved beyond what I did in the Overview!
This is the original self-study course we created in 2019 using Storyline. It was modified in 2021 in Rise.
This is the second required course for new DST volunteers, intended to quickly prepare new DST members to deploy on DROs
This is an introduction to Disaster Services Technology (DST) – the group that provides technology support on operations
Short summary of key points from the larger required course, "Disaster Services Technology Overview"