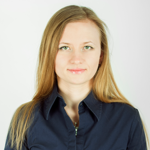 Tatiana Nikolaeva
Instructional Designer at
SickKids
About

Tatiana Nikolaeva

https://youtu.be/DJQm_ZrdKlc
Hi there, Could anyone help me please to figure out how to change font size of text inside different block, like Proc...
Hi Articulate Gurus, I have published a course which is already in production. The course has a slide tracking compl...
Hello there, I have some required and some additional slides in my course. I need to mark my course completed when us...
Hi Everyone, I work in Articulate 360 and we use Classic player in the company's courses.  I set up a classic playe...
Hello there, I'm working on modules for a few months and before they worked well but a few days ago I noticed some s...
Hi all, I use some icons form content library in my modules and I publish them in Review. It worked well but today I...
Hi there, I work as a team member (not admin). I see my team. But there is only one thing I can do as a team member ...
Hi there! Does anybody know how to add glossary terms to the search results? I see my terms in a player, it works. S...
Hello everyone, I use AS2, publish the course for scorm 1.2, it is used in Success Factors lms. SME needs to get an...
Hi! I publish my course from AS2. I choose: Scorm 2004, 4th; HTML\Flash Don't use Mobile player. The course ...