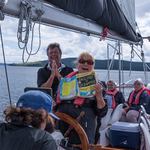 Terry Robb
Quality and Safety Officer at
London Health Sciences Centre
Activity
"I have PP 2010, and opened it using the Articulate tab in PP"
almost 5 years ago

12/06/16 at 6:12 pm (UTC)
Activity
"Thank you so much Alyssa. Worked perfectly !   Terry"
5 years ago

09/20/16 at 3:49 pm (UTC)
Activity
"Am working on adding a question into a quiz this morning, which all ready has several questions in it. For some reason the Form View and ..."
5 years ago

09/20/16 at 2:31 pm (UTC)