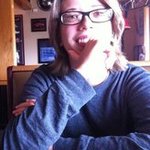 Tara Huff
Instructional Designer at
University of Tampa
About

Tara Huff

Born & raised outside of the box. Tara has evolved into a multi-disciplinary designer who's passion is unparalleled. When she's not found behind a computer working on the next design, she can often be found in a dirty workshop standing behind a woodturning lathe for hours at a time making one-of...
Activity
"These are fun!"
over 5 years ago

06/14/15 at 9:39 pm (UTC)
Activity
"Took a trip to Antarctica and saw penguins! https://twitter.com/TaraHuffIDT/status/610196515420815360 Did I mention that I also made ..."
over 5 years ago

06/14/15 at 9:31 pm (UTC)