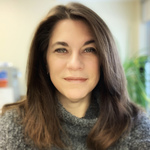 Education Technology Specialist at
Southlake Regional Health Centre
About

Tracy Parish is an education technology specialist working out of the Organizational Development department of a regional health centre in Ontario, Canada. Tracy has a diverse educational background of computer programming, adult educational training, and eLearning design & development leading he...
This quick tutorial will show you how to access and use this feature to manipulate the ending point of your mouse/cursor
Click the button(s) to open and view a video. When video is completed it closes, and the button changes state.
Here is a quick video showing 3 of my favourite "tricks" for manipulating photos with PowerPoint, so that you can create
For many course designers, publishing and deploying the course is the easy part. Much trickier to control is what hap...
Seeing this week's challenge I just had to jump in and create something. I wanted to create something that looked a bit
In my restaurant you're going to eat well because your order won't be placed until you've picked an alcoholic beverage,
This template was inspired and adapted on an app design ("Bike Manual") created by Ben Fearnley.