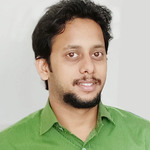 Amar Kulshreshtha
eLearning Expert
About

Amar Kulshreshtha

I've built a lot of projects in Storyline and Animation in Adobe Flash. Feel free to ask me any questions.
created animated snow that gently falls down in storyline 2 itself without the use of JavaScript or Code.
Created an interactive video in storyline 2 using Iphone Video.
This time i have created a manual "SEARCH BAR", "SLIDER" and "LIGHTBOX".
Customized Drag and Drop interactivity with the help of variables in a single slide with multiple layers.
Here are some customizable illustrated characters in storyline 2. You can easily modify these icon.
Juice Store Game" a simple reflexive game which is iPad and desktop compatible. Created in Storyline 1.
I have created a game using "balloon" In articulate Storyline 2. Try to get 3 stars.
This game has three levels. The user has to cross each level by saving his car from colliding with other vehicles.
interactive video quiz "Common Interview question and answers". You can answer all the question.
Here is an example of tablet navigation that features slide down menu and a small intro about YOGA in form of parallax.