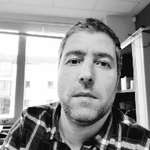 Herve Lacroix
Learning Technologist at
University of Edinburgh,
About

Herve Lacroix

Moved to e-learning after a number of years in face-to-face adult education,loving it!

Edinburgh, Holyrood Campus
Activity
"Nice transitions!"
almost 6 years ago

02/17/16 at 9:15 am (UTC)
Activity
"Well unfortunately I've deleted the states to replace them with layers. Scratched my head for some time as to why they wouldn't work prop..."
over 6 years ago

03/31/15 at 2:48 pm (UTC)
Activity
"Hi, really nice effect there. States can be tricky though - Tried the same thing and my fly-ins from right/left only worked properly half..."
over 6 years ago

03/31/15 at 2:36 pm (UTC)