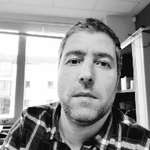 Herve Lacroix
Learning Technologist at
University of Edinburgh,
About

Herve Lacroix

Moved to e-learning after a number of years in face-to-face adult education,loving it!

Edinburgh, Holyrood Campus
Activity
"Thanks for the heads-up on that one Wendy, I was tearing my hair out trying to find why my player was misbehaving on this one project!!! ..."
almost 6 years ago

01/15/16 at 10:19 am (UTC)