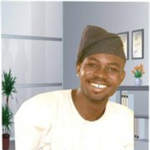 Adebare Showemmo
Digital Learning Specialist at
Agunfon Interactivity
About

Adebare Showemmo

Showemimo had BSc/Ed. in Geography Education with Second Class Upper Division from University of Lagos and his presently with Diamond Bank Nigeria : A leading retail bank in Sub-Sahara Africa. Showemimo was formely the Cheif E-Learning Expert and the founder of 2E Educational Services as well as ...
Activity
"I will have to take a look at this.........."
almost 11 years ago

06/15/11 at 12:39 am (UTC)
Activity
"Great Discussion about having a degree on Instructional design or not! Tom I have a question for you." Is there any University that offer..."
over 11 years ago

02/16/11 at 10:18 am (UTC)