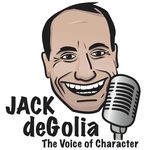 Jack de Golia
Voice Actor at
Jack de Golia Voice Over
About

Jack de Golia

Want a voice talent who's easy and fast to work with? Jack will give you winning, ahead-of-schedule reads of e-learning scripts, polished and produced to your specifications and format. Jack brings 4 decades of acting skill and 7 years of voiceover experience.
Activity
"I'm an American voice actor, with 8 years in the business of giving voice to elearning, audiobooks, video games, and other projects needi..."
5 years ago

07/22/17 at 12:40 am (UTC)
Activity
"If you need a professional voice to narrate your elearning project, I offer experience and skill in elearning audio performance and produ..."
over 5 years ago

11/18/16 at 10:21 pm (UTC)