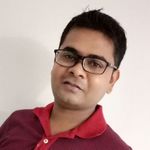 Mahesh Kumar
Spokesperson at
Transcription Certification Insitute
About

Mahesh Kumar

I am Mahesh Kumar, spokesperson of Transcription Certification Institute, a Buffalo, NY based online educational institution that provides in-depth online certification and training courses for general transcription.
Activity
"Hi Nadine, Thanks for the reply. This explains almost all the things that one must consider while developing an eCourse. Well, it's true..."
over 5 years ago

04/14/17 at 12:23 pm (UTC)
Activity
"Yah! Doodle-guessing AI helps us make canvas easily with perfection. The Google AutoDraw is a clever canvas that constantly tries to figu..."
over 5 years ago

04/13/17 at 1:36 pm (UTC)