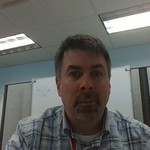 Mykal Duffy
Learning Design Specialist at
Infotree Services
About

Mykal Duffy

I'm a 2019 graduate of Boise State's graduate program in Organizational Performance and Workplace Learning. I'm currently a contract Learning Design Specialist at a Fortune 100 company.
Activity
"There's been an update to the rules and I'm not sure if it applies to all divisions yet, but many of them have introduced a 4th sub if a ..."
over 1 year ago

07/18/19 at 9:52 pm (UTC)
Activity
"I like the interactivity, but it seems to be confused about which sport it's actually describing."
over 1 year ago

07/15/19 at 7:23 pm (UTC)