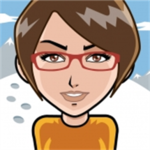 Nathalie Fannes
e-Learning Specialist at
IBM
About

Nathalie Fannes

I have 18 years professional experience in Knowledge Management, Information Management, Content Management and e-Learning. In 2006, I joined IBM Learning Development Europe specialized in learning solutions delivery to European clients. Within PwCConsulting and IBM GBS, I worked during 7 ye...
Activity
"I like them. Thank you!!!"
11 years ago

03/31/11 at 2:42 am (UTC)
Activity
"It is great!"
11 years ago

03/31/11 at 2:25 am (UTC)