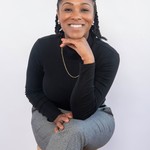 Talia Taylor
Instructional Designer at
The Mosaic Company
About

Talia Taylor

I come from youth development and spent a lot of time (14+ years) discovering ways in which to develop optimal learning experiences for teens. I am now developing online learning experiences for adults within the field of energy. Whew, such a shift!
Activity
"I recently lost a file and am on a tight deadline. I would have hated to have to draft the project over from scratch. This was a real tim..."
over 2 years ago

05/27/20 at 5:04 pm (UTC)
Activity
"I accidentally hit the "report" button in my reply, so I am reposting just in case it gets removed.    Hey Marti,  I came across a rev..."
4 years ago

11/21/18 at 6:43 am (UTC)
Activity
"Hey Marti,  I came across a review for the HP  ENVY 15.6"x360 1080p laptop on YouTube. It was really good. I watched it before visiting ..."
4 years ago

11/21/18 at 6:42 am (UTC)