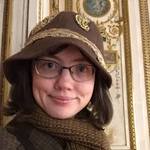 Helen Greetham
Digital Learning Officer at
Birmingham Universtiy
About

Helen Greetham

I'm an Instructional Designer with experience creating learning resources for museums and schools, as well as authoring elearning solutions for a variety of corporate clients and non-profits.
Click and drag the characters to make sentences in this audio-based language learning activity.
A drag and drop sorting activity. What can you take in your hand luggage?
A simple random number generator which uses Javascript to generate a number between 1 and 10.
This game uses Javascript to generate random phrases and Flash to give you the tools to draw them.
An animated pairs game, created for Articulate's brainteazer challenge. Match up atomic elements with their symbols.
This course uses Javascript to give a randomised response to questions that are input.
Quick fire quiz -answer the questions before the tractor makes its way across the screen and drops all of its hay bales.
This example uses a scroll bar to let the learner explore an interactive timeline.