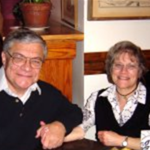 John Wagner
Military Pastor/Senior Adult Pastor at
Lighthouse Military Ministry
About

John Wagner

I'm an evangelist and pastor. Together with my wife we minister to young military men and women between the ages of eighteen and twenty-five. We open our home on the weekends and holidays and invite soldiers, sailors, and marines into our home. My goal is to upgrade our website into an interactiv...
Course about water baptism. Classroom setting, interactions, quizzes, printable certificate at end,
Questions Christians ask about the baptism with the Holy Spirit. Illustrated characters, variables.
Course comparing three biblical baptisms. combines photographic character and cartoon. Interactive table using variables
A game designed to teach about the baptism with the Holy Spirit. Uses the Articulate Hub and Spoke template.
A course teaching the many purposes for speaking in tongues. Uses the Articulate "Business Circles" template.
A course for those interested in learning about becoming a Christian. Based on the Campus Crusade Gospel tract.