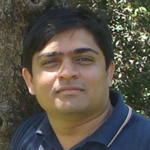 Sainath Dandawate
Manager
About

Sainath Dandawate

14 years of experience in Designing and development of Websites, Educational Multimedia CDs, 3D architectural walkthrough, Art direction and Editing for 2D and 3D animated stories for local TV channels, TV serials, documentaries, e-learning projects for clients in various sectors like IT, banking..
Activity
"Hello Mike, Thank you it helps. Actually I was bit confused about "not selected" sate as there is no "deselected" or " not selected" sta..."
almost 7 years ago

01/12/14 at 8:41 pm (UTC)
Activity
"Hello Mike, It is very helpful to learn about checkbox. I am working on a module and need to know how i can set the "state" of check box ..."
almost 7 years ago

01/10/14 at 3:53 am (UTC)