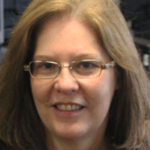 Bobbi Dubins
Instructor at
Allegany College of Maryland
About

Bobbi Dubins

Online instructor, instructional designer
Activity
"I am new to Storyline. The search feature on the web site is not working, so I am having a lot of difficulty finding the information I n..."
over 6 years ago

07/15/14 at 9:40 pm (UTC)
Activity
"I've created a multiple response quiz question. There are 4 correct responses and the question is worth 4 points. It is only awarding p..."
over 6 years ago

07/14/14 at 7:16 pm (UTC)