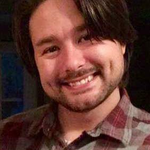 Eric Rowland
Learning Designer at
Paychex
About

Eric Rowland

K12 Teacher turned Instructional Designer - Love Learning and using Articulate as my medium!
Activity
"Hello everyone,  I created a little Zombie inspired module to share with my team and wanted to share with the community.  https://360.a..."
4 years ago

10/29/18 at 8:22 pm (UTC)
Activity
"Hey Articulate team,  I am building a course where the user selects an option and the character on the screen reacts to their option (ma..."
over 4 years ago

08/14/18 at 2:24 pm (UTC)