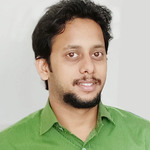 Amar Kulshreshtha
eLearning Expert
About

Amar Kulshreshtha

I've built a lot of projects in Storyline and Animation in Adobe Flash. Feel free to ask me any questions.
Created a Whats app Conversation Animation in Storyline 2 Using Scrolling Panel.
created a funny new year resolution game in which you will find out your new year resolution.