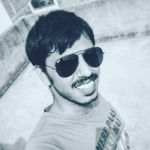 Kartik Tyagi
Content Devloper/ e-Learning Expert/ Owner at
Offstreet Design Pvt. Ltd.
About

Kartik Tyagi

I have 10+ years of experience in the eLearning domain as a developer. My vision is to be the trusted partner for learning services to help individuals and corporations maximize their performance and potential. I specialize in rapid eLearning development using Articulate Storyline
Activity
"Hey rehan thanks for the quick feedback... but there's a little problem m facing here and the problem is Quick style option only gives th..."
over 7 years ago

04/24/14 at 1:58 am (UTC)
Activity
"I've created a drag and drop quiz using articulates default drag and drop template, now I've to change the background color for each of t..."
over 7 years ago

04/22/14 at 3:46 am (UTC)
Activity
"Hi Christine,                        I've made an game board  quiz in which when we click on the different buttons it takes us to the dif..."
over 7 years ago

03/10/14 at 11:56 pm (UTC)