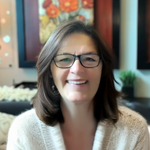 Senior Digital Learning Specialist
About

I'm a learning consultant with over 20 years of training and communications experience. I have worked with business leaders, key stakeholders and project teams designing, developing and delivering collaborative solutions, online learning and interactive communications. My areas of expertise incl...
A 12-part e-learning series on the topic of video editing for camera operators & journalists nation-wide (EN/FR).
I worked with the Corporate Responsibility and Privacy Officers to create yearly e-learning for compliance matters.
I am working with the team at the Harvard Humanitarian Academy to create case-based e-learning.